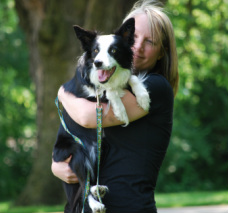 Heather Haggerty ABCDT
​
Heather is the owner/operator of Lucky Dog Academy. She is a Certified Dog Trainer and mentor trainer graduated with honors from Animal Behavior College, an AKC Canine Good Citizen evaluator and a member of the Association of Pet Dog Trainers (APDT). She has two Border Collies and competes in UKI, USDAA, CPE, AKC and Nadac agility, and also enjoys herding, nosework, obedience and trick training as well as therapy work.

Heather has volunteered with dog rescue for over ten years. During this time she saw many nice dogs fail in their homes and end up in shelters or rescues because of lack of good training.

Heather has been a dog trainer for over 12 years. She uses positive reinforcement methods, no choke chains or correction based methods. Her goal is to have your dog WANT to do what you want them to do. This makes a dog work happily for you, not fear you. The more dogs learn the easier it is to teach them and the more they want to learn. A well trained dog learns how to use their brain and is a happier dog. A bored dog will almost always get into trouble!

Heather is also a big advocate of agility training. She believes dogs were bred to do a job and that has been taken away from most dogs. Many working breeds that don't have something they consider a "job" can become bored, neurotic or destructive. Agility gives these dogs a sense of working, even if it's all fun and games.

Email Heather at : heather@whosaluckydog.com
---
---
Dana Pike

Dana Pike began agility in 1991 with her Bernese Mountain Dog, "Riley." She had always had a passion for dog training and soon after her introduction to agility began to seriously study handling and training techniques.

In 1994, she became one of the first judges for the AKC agility program and continued to learn more about course design and handling. Prior to judging for AKC she was also a judge for NCDA and later the UKC agility program. She has judged the AKC, UKC, and AMBOR nationals.

In 1999 Dana began K9s in Motion Agility, offering group classes and private instruction. First and foremost, she strives to help every handler improve their relationship with their dog. Her training is based on positive reinforcement techniques for both the handler and the dog, she lives and teaches that all training MUST be fun for BOTH teammates. Students have come to appreciate her knowledge, skills, humor and direct approach. She credits those students, both human and canine for teaching her as much she's taught them.

Agility has taken Dana around the world as a competitor and instructor.
Her first international competition was with her Jack Russell, Maybie in 2004 at the IFCS world championships, where they went on to win multiple gold medals! Since then, some of her competition achievements include going to the 2008 IFCS world championships with her very young dog, "Tangle," and having been a multiple national finalist with many of her dogs in AKC and USDAA. She cherishes every experience and loves to share memorable moments from each of her trips. Tangle was the winner of the USDAA Grand Prix Finals in 2011 as well as making the IFCS world team for 2012.
Tangle was also invited to the 2011 AKC Agility Invitational, and became the first All American to win this prestigious event!

In May of 2012, Tangle won the 12" Biatholon gold medal at the IFCS World Championships!! He also won the indivdual Snooker gold medal and helped capture the Gold and Silver team medals, way to go Team USA! Team USA had a fantastic group of competitors this year, and excellent coaching by Rachel Sanders and Dave Grubel.

Recently, Dana became interested in the newest dog sport, Nosework. She is currently training two of her dogs in scent work, and has completed the requirements to become a certified nosework instructor through the NACSW.

Email Dana at K9nmotion@aol.com
---
---



---

Kelsey Lawson
​
​Kelsey has 16 plus years of dog training experience. She grew up learning how to train and show dogs from her mother at a very young age. She began training in 4H, with their family Golden, and moving on to her own dog, Rocket, an Australian Shepherd, at the age of 11. She and Rocket went on to be 4H Grand Champion 5 years in a row; while simultaneously competing in agility and obedience competitions through AKC, CPE, NADAC, USDAA, UKC, & ASCA. Growing out of 4H and into adult competition, she has titled and trained dogs through open and utility levels of obedience and open and excellent levels in agility. Her most recent dog, a Border Collie named Halo, has expanded her training exploration into herding, fly ball, and disc dog, as she is finishing her agility and obedience training to begin competitions this Spring! Her dogs have always been known for their tricks as well, winning Best Trick several times at local shows and doing demonstrations at nursing homes and special education classes through Therapy dog work for many years. Being an active outdoor and sports enthusiasts she and her husband, Abe, along with Halo, and their Great Dane, Eno, currently live in Aurora, and also enjoy hiking trips, ultimate Frisbee, volleyball, photography, and horseback riding.
---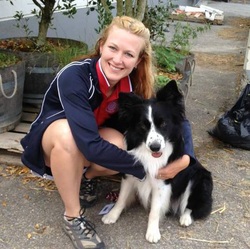 Danielle Davis

​Danielle has 15 plus years of agility experience. She has put MACHs, ADCHs, NATCHs, and UGRACHs on multiple dogs. Has qualified for AKC Nationals in 2010-2015, USDAA Nationals 2010-2014, and NADAC Championships 2010-2011. She has also gone to AKC World/International Team Tryouts in 2012-2014 and was a member of the AKC International team in 2013. She also actively competes in Obedience, Rally, Conformation and Herding and has titled dogs in those venues as well. She is owned by 7 Border Collies varying in ages from 2-13 ½; Lizzy, Devlin, Lil, Remi, Desmond, Molly and Jones.
​
Email Danielle at Danielle@whosaluckydog.com.
---
---
Marcy Mossburg

Marcy has been training dogs professionally since 2009. She is a CPDT-KA certified dog trainer, CGC and STAR puppy evaluator. Marcy is a former Board member and active volunteer with the Hinsdale Humane Society. She was recently recognized by the shelter for fostering over 73 dogs and puppies. She resides with a her Boxer, Max, a Doxy/Cocker mix, Myka and two cats.

Email Marcy at marcy@whosaluckydog.com
​
---
Anna Marszalek

Anna started working with dogs as a foster home for a local rescue. She worked on basic training and manners for her foster dogs, and helped get them ready for adoption. She started agility training with her 6 year old shih tzu, not to compete, but to build confidence and build a better relationship. Since then, all three of her dogs have participated in agility training, with different goals and training approaches to fit their needs.

​Email Anna at
Anna@Whosaluckydog.com
---
---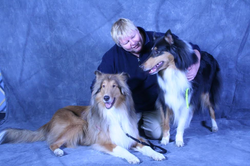 Roxanne DwyerWhen Roxanne was 12 years old she trained the family dachshund using an obedience training book from the neighborhood library. She had to keep renewing the book until she and the dog completed all of the Novice Obedience exercises. She got her real start in competitive obedience in 1982 with a Shetland Sheepdog, earning a CD and a CDX in six consecutive trials.

Since those long ago days, Roxanne's experience and understanding of how dogs learn has grown substantially. Roxanne is certified through the Certification Council of Professional Dog Trainers and is an evaluator for the American Kennel Club's Canine Good Citizen program (CGC). Roxanne's educational focus was on the human-animal bond and humane education.

Her eight years of experience as a foster home for rescue dogs showed that many relinquishments can be avoided with appropriate training and behavior counseling. For five years Roxanne taught dog training to youth through a local 4-H program. She has taught basic obedience since 2001 and Rally obedience since 2006.

For Roxanne, it's all about the journey. She finds the process of teaching and learning far more engaging than the act of competing. On this learning quest Roxanne and her dogs have explored the worlds of agility, obedience, rally, sheep herding, sled pulling and tracking. Roxanne's most significant mission, however, has been her 21 years of experience in animal assisted therapy (AAT) partnering with four different dogs and a cat.

Roxanne and her animal partners have worked in diverse settings including rehabilitation units, correctional facilities, classrooms and residential facilities. In addition to her practical experience Roxanne has attended conferences and workshops on the human-animal bond sponsored by University of Michigan, Tufts and Censhare, and visited therapeutic sites such as Green Chimneys in New York. She has presented courses on AAT to volunteers and professionals including the Illinois School Social orkers. In addition to their regular therapy programs Roxanne and her canine partner Onchu are members of a crisis response unit.

Email at Roxanne@whosaluckydog.com
---
---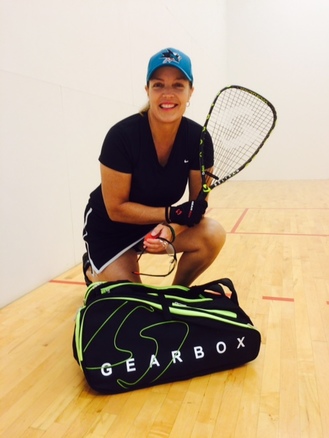 Cheryl Gudinas

USA RacquetballTeam Member- 21 Consecutive Seasons
Current Head Coach USA Junior National Racquetball Team
AFAA Certified Personal Trainer 20+ years
B.S in Nutrition/ Benedictine U.
8 time US National Singles Champion
4-time #1 Ladies Pro Tour yr-end anking
3-Time World Champion/singles
2-Time Pan American Gold Medalist 1999, 2003
3-Time Women's National Doubles Champion
CPR Certified
2013 Coach of the Year
Specializes in:
.Sports Performance
.Speed & Agility
.Injury Prevention & Flexibility
.Strength & Conditioning
.Mental Toughness Training .NutritionEmail at unifiedfit@aol.com
---